We are an institution that provides the best customer support in the care of children from 4 months to 5 years instilling skills and skills in a warm, safe and cozy, we have a staff of highly qualified professionals who provide a reliable alternative and responsible for the care of them while parents work.
We are an educational institution cohesive quality initial education on a Christian community and strong values ??committed to community development. ...
Our professional teachers are graduates from leading universities Trujillo and have been selected according to academic, psychological and educational development to their work with children on the initial level.
Center of dedicated early and prenatal stimulation for the attention of pregnant from 4? month of gestation and children from the 15 days to the 3 years. Therapy of language. Hapticas techniques. Sensorial integral.
Come to Play, is an entertainment center, early stimulation and pre-kindergartens for children up to 7 years.
Specialist training, interagency agreement has as the University Inca Garcilaso de la Vega, procurement watchdog the ETAD - OSCE. ...
Sale of didactic games for early stimulation of 0 to 6 years of age....
Cradle garden nursery RD1778 worked over 10 years with 12 children per classroom
It is an inst. private educational services providing nursery crib and initial level of 3, 4, and 5 years are a inst.que we make a difference, with quality of teaching and aprendizade with expriencia professors specializing in the initial level.
Educative association, for charity I group a series of companies.
Basic education School offers Christian counseling, education on spiritual values??, system A beka book and English, plus dance classes. ...
Advising in communication, Literature, r v, general culture, thesis project....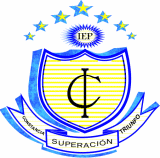 The educative institution immaculate conception of the Rep it are its roots by creative initiative and vocation on watch of the promotional gentlemen marilyn e. red cortez, Walter g. cortez Martinez and Walter i. red cortez in 2002; who in their eagerness to lift the educative quality of the society perle?a gave to beginning to this educative community the one
More...
Calle Mariano Melgar N° 142 Urb. Magisterial La Perla - Callao - Lima - Peru
Institution dedicated to the education of minors in the levels of primary initial and, with coarse experience in the heading, our pupils are the reflection of our category and efficiency.